Earlier today, Niantic unveiled codename pre-registrations for existing Pokémon GO and Ingress players! Until April 30th, 2019 at 11:59 P.M. PT, Ingress Agents and Pokémon GO Trainers will be able to reserve their Agent Name or Trainer Nickname to use in Harry Potter: Wizards Unite.
Please note that at this time, you can't reserve a new unique name unless you change your name on Pokemon GO. I know, this is unfortunate for unique witchcraft and wizardry names. However, it's a start!
You should also know that Pokemon Trainer Club accounts don't work. You will need to link your Trainer Club account with your Google account.
There are exceptions, however. There may be some cases where Codename reservations are not guaranteed. For example, your Code Name may overlap with a user in another Niantic title. For this scenario, reservation will be first come, first served. So apply for reservation as soon as you read this news!
It's also possible that if your codename overlaps too much with iconic names in the wizarding world, you won't be allowed to use it for Wizards Unite. A few WUtubers weren't able to get their codenames, and it's unclear if that is because their codenames overlapped with an Ingress player or if their codenames were already too magical.
We will update this post if we learn more. Until then, grab your codename ASAP!
You can also read our In-depth look at how Wizards Unite codename regservation works for a more technical overview of the reservation system.
---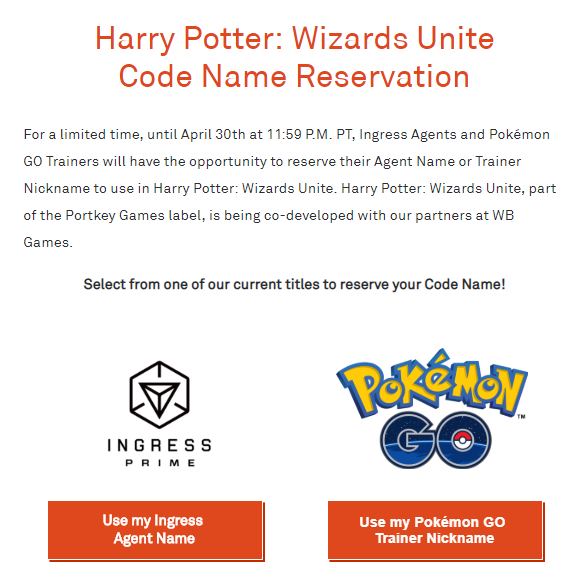 As always, keep coming back to Wizards Unite Hub for the latest news, wikis, and articles involving Wizards Unite!